Suatu project implementasi SAP tentunya harus dikerjakan dengan efektif dan efisien. Efektif dan efisien dalam mengelola seluruh sumber daya baik waktu, orang, kualiatas dan biaya. Oleh karena itu diperlukan suatu petunjuk atau guidance dalam menjalankan proyek implementasi SAP atau ERP, agar suatu implementasi berhasil mencapai Go Live. Dalam webinar ini akan dipelajari bagaimana metodologi ASAP – Accelerated SAP sebagai guidance dalam implementasi proyek SAP.
Profil Instruktur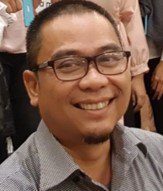 Ir. Sri Sardjananto, S.T, M.T., IPM
Praktisi ERP/SAP
Deskripsi Pemateri:
Pendidikan
S1, Sarjana Teknik Industri, Institut Teknologi Bandung
S2, Magister Teknik Industri, Binus University
Certified : SAP Consultant MySAP SCM Procurement 4.6C , S0001944543
SAP Consultant with more than 10 years' experience in various modules such as Material Management, Plant Maintenance, Production Planning, and Industrial Solution Aerospace & Defence.
Have many SAP project experiences including new SAP implementation and manage service (support) SAP Operation, SAP Project Management / methodology.
Best Employee 2006, PT Garuda Indonesia
Project Experience
SAP MM PT GMFAA
SAP MM PT Garuda Indonesia
Fuel Online PT Garuda Indonesia
SAP Aerosapce & Defence PT GMFAA (including : Aircraft Maintenance Supply chain) using almost all module SAP FICO,HR,SD, MM,PM,PS,DMS and IS A&D.
SAP MM Inflight Catering
Fasilitas: Webinar Only
Program ini tidak menyediakan Sertifikat Kehadiran bagi peserta Free Webinar
Modul dan Ujian hanya diberikan bagi peserta kursus.
Program ini menyediakan Sertifikat Kursus bagi peserta yang lulus ujian saja
Fasilitas:
1) Recorded Webinar
2) Modul Pelatihan
3) Group Discussion
4) Ujian Online/Remedial
5) Sertifikat Kursus dari BKTI-PII bagi yang lulus Ujian (Sertifikat Kursus mencantumkan nama, tempat/tanggal lahir, skor hasil ujian dan QR Code).
1) Melakukan pembayaran biaya kursus
a) Perorangan
Umum : Rp.150.000,- per orang
Mahasiwa/Fresh graduate*: Rp. 75.000,- per orang
*) Mahasiswa: wajib melampirkan screenshot Bukti Status Mahasiswa (KTM) atau Bukti tanda mahasiswa lainnya (jika KTM tidak ada)
Fresh graduate wajib lampirkan screenshot tanggal ijazah atau Surat Keteragan Lulus maksimal kelulusan 2 tahun
b) Kelompok**
Umum: Rp. 100.000,- per orang
Mahasiswa: Rp. 50.000,- per orang
**Kelompok minimal 10 orang dari Instansi/Perguruan Tinggi yang sama.
Cara pembayaran kelompok: Kumpulkan biaya kursus ke satu orang koordinator. Koordinator melakukan transfer gabungan pembayaran ke rekening di bawah ini. Bukti transfer gabungan tersebut diupload oleh masing-masing peserta. Koordinator kemudian menginformasikan daftar nama anggota ke Admin.

2) Upload bukti transfer melalui form pendaftaran ini
3) Bergabung dalam Group Tutorial Kursus (link WAG akan dikirim ke email peserta)
4) Mengikuti Ujian Online (Ujian Pilihan ganda, Open-book, Passing grade 70%)
5) Sertifikat Kursus dapat langsung didownload setelah lulus ujian.
Narahubung:
Wanda wa.me/+6289617913209
Ayu wa.me/+628310049469