Pada kursus ini akan dibahas dua modul/siklus transaksi dalam ERP Odoo. Yaitu Purchase (P2P - Procure to Pay) dan Sales (O2C - Order to Cash).
Outline Materi:
Purchase (P2P - Procure to Pay): Contact Tags, Create New Vendors, Import Vendors, Searching Vendor, Category Product, Create New Product, Update Qty on Hand, Purchase Order, Purchase Agreements, Vendor Bills From Purchase, Double Approval, Warning, Lock Order. Transaksi P2P (Purchese Order/PO - Receiving - Vendor Bill - Vendor Payment). Install Modul Extra Odoo Store.
Sales (O2C - Order to Cash): Create New Customers, Import Customers, Category Product, Create New Products, Update Qty On Hand, Quotations, Invoicing From Sales Order, Invoice Policy, Customer Lead Time, Payment Term, Currency Pricelist, Margins Sales Order, Shipping Cost. Transaksi O2C (Sales Order/SO - Delivery - Supplier Invoice - Cash Receive). Multi user - multi browser - multi mode.
Profil Instruktur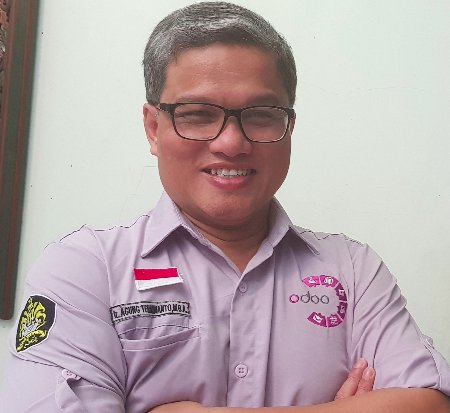 Dr. Ir. Agung Terminanto, MBA, IPM, CEL, CEA
ERP Odoo Specialist, Konsultan ERP untuk UKM, Tim Penyyusun SKKNI ERP
Deskripsi Pemateri:
I am a lecturer and practitioner of ERP Odoo in Indonesia. I am a lecturer at the Faculty of Computer Science, University of Indonesia (https://www.cs.ui.ac.id/) and Pancasila University, teaching the Odoo Enterprise Resourcse Planning course. I work at PT. Desktop IP (https://desktopip.com/). Experienced for more than 28 years in the manufacturing and information systems industry, covering various areas ranging from, ERP (Enterprise Resources Planning) Odoo, Production, PPC (Planning Production Control), System Development, Process Engineering, Quality Control, Sales & Warehousing, and Cost Engineering, as well as Management Development Systems, Risk Management etc.
I am a graduate of Doctorate in computer science from the University of Indonesia with a Dissertation Title: Cloud ERP adoption Model for Indonesian MSMEs: Critical Success Factors, Level of Readiness, Implementation and Configuration Preferences using the Odoo Framework. (https://www.cs.ui.ac.id/index.php/model-adap-cloud-erp-umkm-untuk-indonesia/). I implemented Odoo in 10 MSME companies.
I have computer skills from various fields: ERP-Enterprise Resources Planning - ERP Open Source Odoo / OpenERP until version 12.0, Oracle e Business Suite 12.1.4 (Module Order Management, Procurement, Inventory, Forecast to Plant, Plant to Produce, Accounting & Finance, Asset Mgt), Linux Ubuntu 18.04 operating system, Window, Statistics, Simulation, Office, Project Management, Graphics, Marketing, etc.
Mastering various manufacturing methods starting from ISO 9000/14000, MRP, Inventory (Kanban / JIT), Lean Manufacturing, Total Quality Management, Kaizen, Statistical Control, Quality Control Circle, Business Process Mapping, etc.
Fasilitas: Webinar Only
Program ini tidak menyediakan Sertifikat Kehadiran bagi peserta Free Webinar
Modul dan Ujian hanya diberikan bagi peserta kursus.
Program ini menyediakan Sertifikat Kursus bagi peserta yang lulus ujian saja
Fasilitas:
1) Recorded Webinar
2) Modul Pelatihan
3) Group Discussion
4) Ujian Online/Remedial
5) Sertifikat Kursus dari ASDAMKINDO bagi yang lulus Ujian (Sertifikat Kursus mencantumkan nama, tempat/tanggal lahir, skor hasil ujian dan QR Code).
1) Melakukan pembayaran biaya kursus
a) Perorangan
Umum : Rp.150.000,- per orang
Mahasiwa/Fresh graduate*: Rp. 75.000,- per orang
*) Mahasiswa: wajib melampirkan screenshot Bukti Status Mahasiswa (KTM) atau Bukti tanda mahasiswa lainnya (jika KTM tidak ada)
Fresh graduate wajib lampirkan screenshot tanggal ijazah atau Surat Keteragan Lulus maksimal kelulusan 2 tahun
b) Kelompok**
Umum: Rp. 100.000,- per orang
Mahasiswa: Rp. 50.000,- per orang
**Kelompok minimal 10 orang dari Instansi/Perguruan Tinggi yang sama.
Cara pembayaran kelompok: Kumpulkan biaya kursus ke satu orang koordinator. Koordinator melakukan transfer gabungan pembayaran ke rekening di bawah ini. Bukti transfer gabungan tersebut diupload oleh masing-masing peserta. Koordinator kemudian menginformasikan daftar nama anggota ke Admin.

2) Upload bukti transfer melalui form pendaftaran ini
3) Bergabung dalam Group Tutorial Kursus (link WAG akan dikirim ke email peserta)
4) Mengikuti Ujian Online (Ujian Pilihan ganda, Open-book, Passing grade 70%)
5) Sertifikat Kursus dapat langsung didownload setelah lulus ujian.
Narahubung:
Wanda wa.me/+6289617913209
Ayu wa.me/+628310049469